No transaction fees or subscription! Park directly without a parking meter in more than 100 municipalities.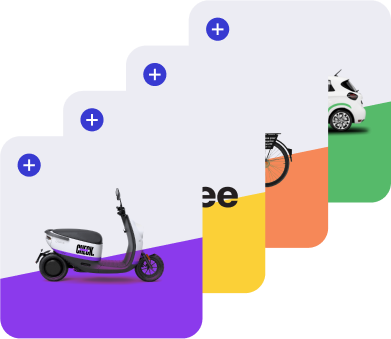 Save up to 30% on your parking costs. Reserve your parking spot now!
Park at 250+ ParkBee locations with Gaiyo. These parking spots can be reserved in advance and are also about 30% cheaper than regular (street) parking rates. You can also book an e-bike, scooter or public transport through Gaiyo for the last mile to your final destination! How does Gaiyo parking work?
Open the Gaiyo app and go to the parking widget via the dashboard. If street parking is available at your current location, a blue button will appear with the text: "Start Paid Parking"
You can also enter an address to start a parking session. You do not have to be near your car. Parking via Gaiyo in car parks is not possible yet.
Where can I park with Gaiyo?
You can use Gaiyo for paid street parking in more than 100 Dutch municipalities. Find your location in the app and view your options.
How much transaction fee do I pay at Gaiyo?
Gaiyo charges a €0.00 transaction fee. Yes, you read correctly!
Is Gaiyo cheaper than Parkmobile or Flitsmeister?
With Parkmobile, you pay €0.39 per parking transaction. At Flitsmeister you pay € 0,35. At Gaiyo, you pay €0.00 per parking action. Count your winnings.
How do I stop my parking session?
An ongoing parking session can always be seen on the Gaiyo dashboard. You will then see a 'P' icon at the top of the dashboard, telling you that your car is parked. To end your parking session, click on the message at the top of the dashboard and then click on the blue button at the bottom of the screen with the text: 'Stop Parking'.
I have other questions… What should I do now?
You can always search in our support articles. Unable to find what you're looking for? Please mail your question to: support@gaiyo.com or call us during office hours on +31(0)85-2500595.
Always the latest updates and special promotions in your inbox.
Always the latest updates and special promotions in your inbox.